Ana's Little Star shining stronger than ever creating
a movement for a completely transparent charity.
We believe in the power of connection, in switching on our hearts and switching off our egos.
Giving means truly living.
How it works
Ana's Little Star
Our advantages with added value

Voluntary & without money
We run in our free time and operate without money. We do not accept financial donations.

Own database
We want your help to get to those who truly need it. Always. For this reason, we have established our own recipient database.

100% donations & transparency
Your entire donation is given directly to individuals and families in need.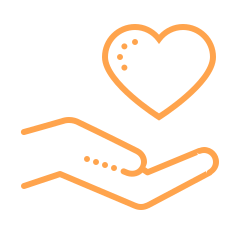 Kind hearts & personal contact
Each package is made and delivered with love. The smiles and happiness of those we can help mean the world to us.

Movement
We restore true values, unite people in the spirit of love, and set new trends in charity.

Truhoma
We are genuine, sincere and very proud that Ana's Little Star will be the first charity partner of the global Truhoma project.
Ana's Little Star in statistics
Over the years, we have successfully collaborated with more than 400 educational institutions, 800
companies, 70 sports associations and clubs, 30 institutions (police, army, firefighters, hospitals…)
and more than 6,000 individuals. Together, we have helped more than 280,000 families, children
and individuals.
of cosmetics and cleaning products
school stationary sets and toys
40 references in books, school textbooks, tests, exams and brochures
The greatest pride of Ana's Little Star is the children and young people. Thousands of them help,
participate and even start charity campaigns on their own initiative. Our greatest success is when
children and young people want to be little stars, too. They are our future and we can depend on
them.
You can donate food, cleaning products and cosmetics. All your donations are carefully sorted,
packed in boxes and handed over to families and individuals in need.
You can also help by buying the Ana's Little Star fairy tale. The majority of the funds collected in this
way will be used to purchase food for families and individuals in need.
The Truhoma platform enables you to help with a financial donation. 100% of it will be used to purchase care packages for families in need. Your entire donation is fully transparent and traceable.

You can
help too
How can you get involved?
We are currently short of the following products:
Chocolate spread, jam, honey
Canned fruit and pickled vegetables
Polenta, semolina, barley, etc.
Oatmeal, cornflakes, cereals for kids
You can also donate cosmetics and cleaning products.
Follow our charity projects and charity campaigns and get involved. Thank you.
Glad we could
help
Some testimonials by the families, individuals
and charities we've helped so far.
A collaboration of hearts
Here is what our donors say
Thank you for being part of our story
Ana's Little Star has been supported by more than 1,300 legal entities and 5,000 individuals – with growing support. A big thanks to each and every one of you.